17/18/19 December 2010 – Officina Giovani, Prato
December 17: Compagnia rAn-network (IT/UK), Shaun Boyle (USA)
December 18: Compagnia Borderline (IT), Nina Kov/Hellicar & Lewis (FR/UK)
December 19: Piera Pavanello (IT), Christopher Matthews (USA)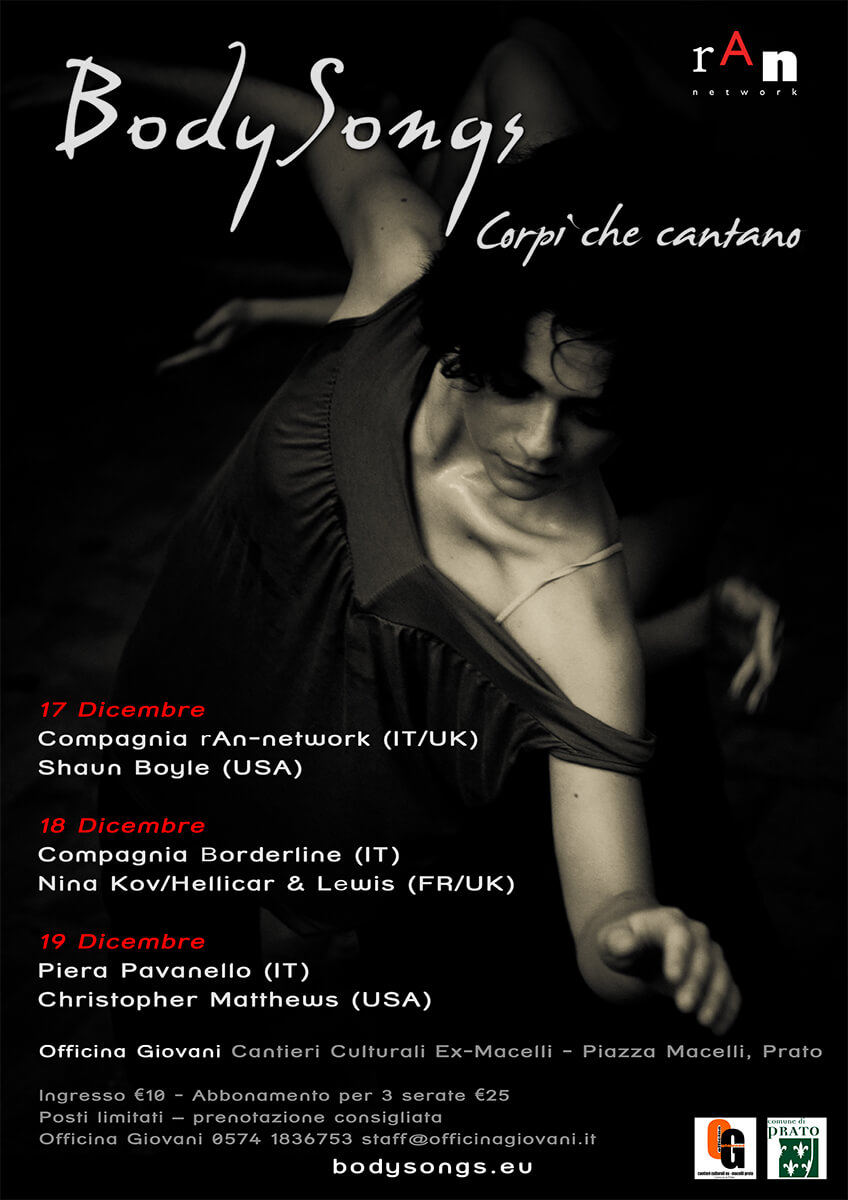 December 17
rAn-network
A Stream of Waiting
Choreography: Fortunato Angelini
Dance: Susanna Sastro, Vincenzo Capasso
Costumes: Leandro Fabbri
Video director: Fortunato Angelini
Filmmaker: Ronnie Haynes
Voice: Fiona Renshaw
Music: Nana April June, Philip Glass
Inspired by the absurdist play 'Waiting for Godot' by Samuel Beckett, Fortunato Angelini has creted a dance event, which uses movement and explores visual environmental relationships, with a strong focus on human interchanges and complex relationships.
---
Shaun Boyle
See, Myself & I
Choreography: Shaun Boyle
Dance: Anna Kingston, Tegen Whyte, Whitney Cover
Music: Jono Podmore
See, Myself & I is a work that aims to question the static, manufactured images we regularly see of females in society by intimately exposing the dynamic natures of contemporary women and the humanity that lies beneath appearances. In doing so, it examines women's self-perceptions, as well as what is experienced as a collective whole. The four performers, who hail from Australia, Ireland, England, and the United States, not only demonstrate skill and strength as dancers, but also expose vulnerability and touching sense of honesty throughout this work. The diversity and virtuosity of movement in See, Myself & I is accompanied by an original sound score by composer Jono Podmore derived in part from the spoken voices of the dancers.
See, Myself & I premiered at The Bonnie Bird Theatre in London in September 2010.
---
December 18
Borderline Company
LEGAMI – relazioni in diretta

Music: V. Bellini, G. Bizet, Dario Casillo, Roberto Marino
DJ Set: Dario Casillo, Enzo Casella
Videomaker Ugo Petillo
Light Designer: Francesco Ferrigno
VJ: Emilio Pannetta
Organisation: M. Teresa Scarpa
Production: Borderline Danza with the support of MIBAC, Regione Campania, Salerno Solidale, Artgarage, Campania Danza, Teatro Kolam
Legami is an investigation about ourselves, about our passions and perversions; the piece shows fragments of different kinds of relationships. Gesture, dance and video create an interconnection behind a spider web, as a metaphor of the complexity of human interaction.
Legami was performed for the first time in June 2009 at the Napoli Fringe Festival and has since been presented throughout Italy.
The work is an esploration of the interaction between human bodies in terms of relationship, employing dance, video and theatre. The audience is actively involved in the performance, so as to reduce the distance beetwen the dancing body and the observing body.
Legami is an interactive work in which the actions proposed by the audience complicate and modify the plot of the performance. The public, becoming part of the choreography, experience a new state of perception.
---
Nina Kov/Hellicar & Lewis
Divide by Zero
Choreography: Nina Kov
Dance: Catarina Carvalho
Music: Paul Child
Live Interactive projection: Hellicar & Lewis.
Hypnotherapy: Sarah Collier
'Divide by Zero' is set in an environment where connections between personal unconscious content and digital interfaces are made possible. The work reveals intimate subconscious dynamics by connecting movement to large scale interactive projections. The movements are obtained by examining the physical impact of specific emotions. During the rehearsal process, hypnotherapy is used as an entrance for creating a different kind of practice of creative collaboration, as well as a new relationship to performance itself.
Nina Kov/ Hellicar & Lewis have been nominated Associate Artists for DanceDigital 2010-2011. DanceDigital is the national organisation for Dance and Technology based in Chelmsford in the East of England.
Nina Kov- Hellicar & Lewis: Divide By Zero ( excerpt 1 ) from Nina Kov on Vimeo.
---
December 19
Piera Pavanello
4.3
Open studio for a solo
Choreography and dance: Piera Pavanello
Sound project by Piera Pavanello
Original sound: Chiara Cipolli
Sounds samples: Martin Pilz
Music: F. Battiato, B. Nauman, T.P.N., G. Trovesi Nonet
Light designer: Martin Pilz
Distributed by: Associazione Vera Stasi / Giovani Produzioni
The starting point of the movement research for this work is solitude as a harsh, unique, concrete fact.
Disillusion arrives punctually, renewing itself consistently.
The dance generated from this investigation is intimate, violent, consisting of stops, runs, falls and changes of direction.
The body changes state, suggesting different and universal identities. The body's boundaries move and expand in circles, like ripples when a stone is thrown in still water.
By studying solitude, when we can look at the solitude of other people, we can feel united by the shared isolation.
4.3 has been developed since 2005 from a solo research project. It has been presented in many versions through the years with different durations.
---
Meetings
Choreographed by : Christopher Matthews
Dance by: Nina Kov, Christopher Hutchings
Sound: Ade Frank
---